Welcome
Here you will get a glimpse of where I've been as a musician and drummer, including various projects and collaborative work with other individuals and groups in a professional setting, and where I am heading. You will also find information about my artistic background and technical data relating to the services I provide.
Thanks for stopping by. I hope you will find the information you are looking for.
Phil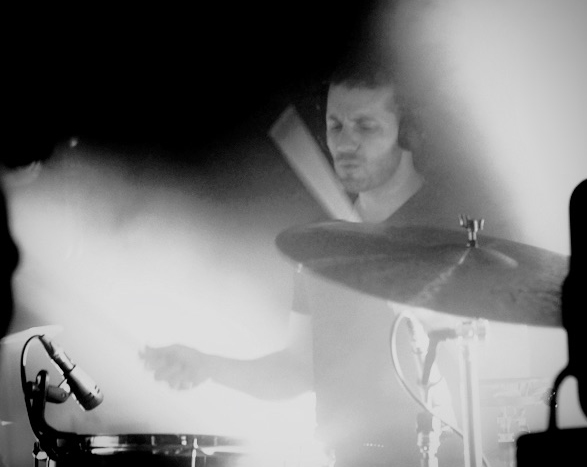 Biography
Phil Paris
Picking up a pair of sticks at the age of five was an experience that triggered something deep inside Phil. Although he went on to master several other instruments, his overriding passion is still playing drums.
His appetite for drumming led him to study the art in depth in the conservatory in Switzerland. He then continued to perfect drumming with masters in London and New York. He gained experience worldwide as an active performer and recording artist, and brought his personal touch and sensitivity to many musical projects.
The energy he puts into his playing opened the way for him to join the ranks of several international groups, and even if he is mainly rock and pop oriented, his solid drumming and fat sound has also been adopted by various hip-hop projects.
As an independent touring and session artist, Phil works in several different musical spheres, and offers his services for individual gigs, tours, studio sessions, drum tutorials and workshops.
Phil's expertise and professional abilities make him a dynamic and sought-after musician.
Drumset
Discover Phil's setup
Discover Phil's setup and know more about the instruments and gear he uses.
Phil takes an active part in instruments development projects, as well as music gear engineering & designing. Many components of his musical equipment have been created in collaboration with the companies he endorses.
Read more and find out his patch list and tech rider when he is on tour.
Technical Files
Patch List.pdf
Technical Rider.pdf
Phil Paris is endorsed by
Activities
Touring, Musical performances & studio sessions
As a freelance musician active in the music industry, Phil performs and collaborates on numerous creative projects. He serves in various musical activities such as live performances, individual gigs, international tours, studio productions and recording sessions.
Royal Studio // Frankie Studio // Studio du Flon // BBM Studio // Greenwood Studio // Lorelei Studio // Bagdad Studio // Euro Gospel Studio // Scarabee Sound Studio // Taurus Studio // Lotus studio // Silveray Studio // Vecteur Audio Studio // Alterna Studio // and many others…

Caprice Festival, Crans-Montana // Montreux Jazz Festival, Montreux // Croc the Rock Festival, Lausanne // Arx en Ciel Festival, Zurich // Lôzane's Burning, Lausanne // Rock on the Rock, San Michele // Rocknight, Bern // Open Air fest, Barcelona // Radical Festival, Billy Berclau // Open Air Festival, Mont-Soleil // Brainwave Festival, Amsterdam // Multi festival, El Burgo de Osma // Chrismas Rock Nacht, Ennepetal // Plugg Festival, Lausanne // Freakstock Festival, Kassel // Contrast Festival, Oron // Virage Festival, Gex // Jesus Revolution Fest, Prague // Rocknacht, Owenteck // Meltingpot Night, Aubonne // Up Festival, Lutsk // Festival de l'eau d'heure, Boussu // JesusFreaks Festival, Mainz // Open Air Multi Festival, Saragosse // Baleinev, Yverdon // Mailen Open Air Festival, Zurich // International Music Fest, Belfort // and many others…

Arena, Geneva // Auditorium Stravinski, Montreux // Zenith, Rouen // Reithalle, Bern // Palais de beaulieu, Lausanne // Théâtre de Beausobre, Morges // Explo 96, Basel // St-Jacobs Stadium, Basel // Festhalle, Bern // Forum de fribourg, Fribourg // Palais de la culture, Abidjan // Stade de la Pontaise, Lausanne // and many others…

Bierhuebeli, Bern // Gare de Lyon, Fribourg // La Catrina, Zurich // Z7 Konzertfabrik, Pratteln // Le Nouveau Monde, Fribourg // Exil Club, Zurich // Sommer Casino, Basel // Kofmehl Kulturfabrik, Solothurn // D! Club, Lausanne // Usine, Geneva // Rockin'chair, Vevey // Veaudoux, Monthey // Chili bar, Zurich // Halle 21, Thun // Gaswerk, Winterthur // First Rock Café, Geneva // Amalgame, Yverdon // Le Télégraphe, Brussel // Caf'art, Lausanne // Le Cube, Belfort // Club Urban, Altdorf // Bleu Lézard, Lausanne // and many more…

Rouge TV // Joiz TV // TVM3 // Rouge FM // Stop FM // Rete 3 // DRS 3 // RSR 1 (Radio Suisse Romande) // Paradiso // Couleur 3 // God TV // Max TV // TSR (Télévision Suisse Romande) // Studio one // Radio impact // and many more…

Belgium // Germany // Austria // Spain // Great Britain // Ukrain // France // Costa-Rica // Switzerland // Czech Republic // Italy // USA // Ivory Coast // Canada // Island of "La Réunion" // and many more…

Some of records on which Phil has played have been distributed over 60 countries, including: Argentina // New Zealand // The Philippines // Lithuania // United Kingdom // Mexico // Brazil // Thailand // Greece // Colombia // Romania // Turkey // United States // Australia // Netherlands // Poland // Vietnam // Ukraine // and many others besides…
Education
Teaching, coaching & workshops
Besides his studio activities and live performances, Phil has been teaching drums for many years. He specializes in open handed drumming, tempo management, getting ready for the studio, independence, and coordination, free strokes and Moeller technique, drum tuning techniques and finding your own unique style with drums. He is available for both private lessons and workshops on these topics. Since 2011, Phil is a member of the Vic Firth Education Team.
Visit vicrfirth.com
Contact
Phil Paris
Abraham-Gevray 7
1201 Geneva
Switzerland